The sound of stress-free working
MUSE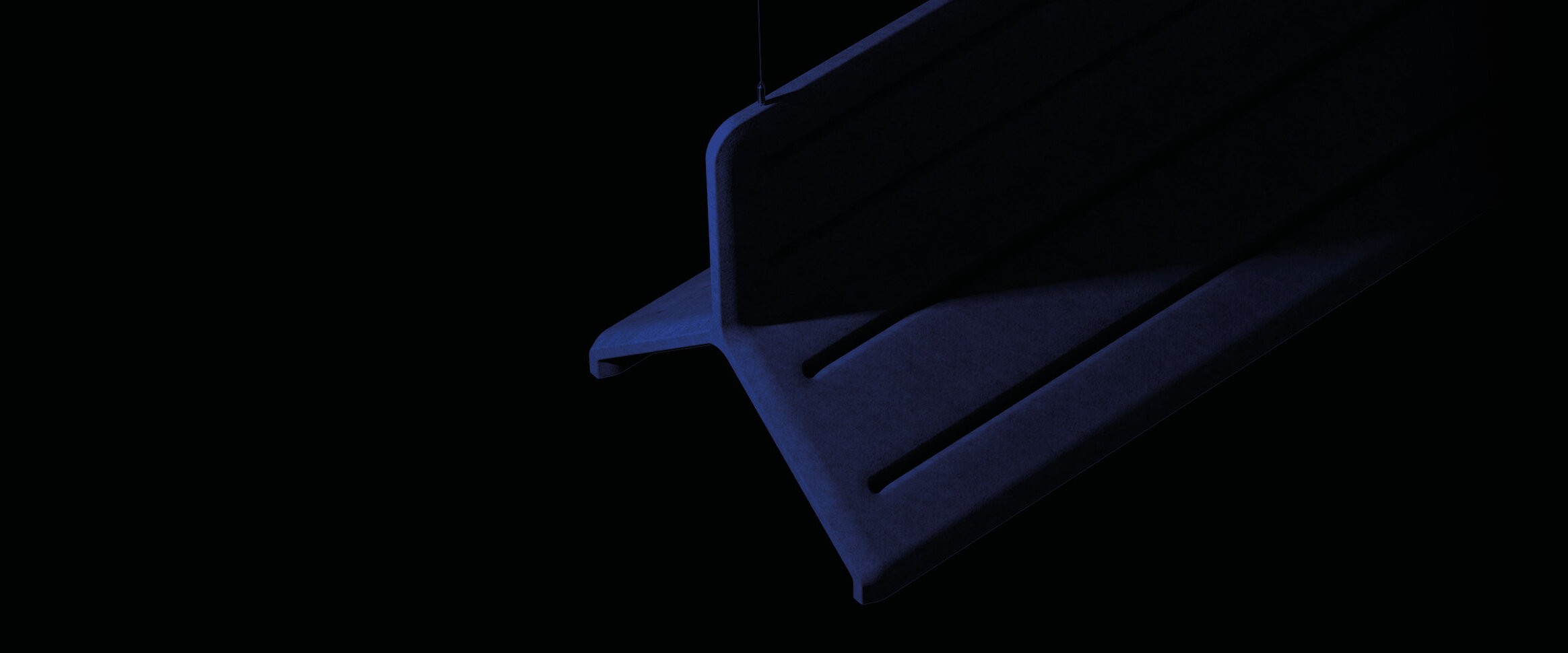 The human need for silence
A quiet environment is a basic human need. Today, however, it is often neglected and measures for room acoustics are only implemented half-heartedly. The combination of light and acoustics are the most critical factors influencing well-being at work, boosts productivity and enhances the enjoyment of work. The five-part MUSE system offers a solution for the most significant challenges of modern office environments. Virtually glare-free and brilliant professional office workplace lighting is combined with optimised room acoustics for a stress-free and focused office environment.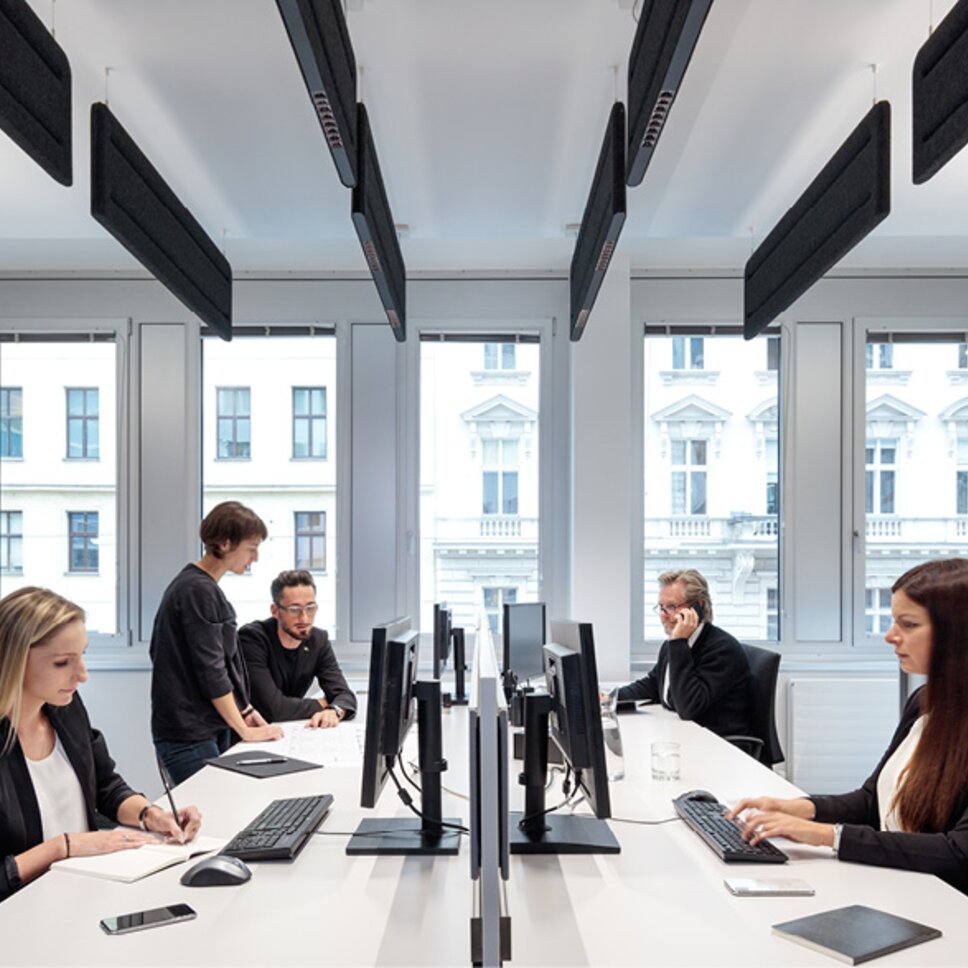 Light and acoustics have a direct impact on physical and mental well-being, as well as the enjoyment of office work and its success. With the five element MUSE system, XAL addresses two of the most pressing opportunities for improving today's office environment by tackling these two basic workspace hygiene factors in combination.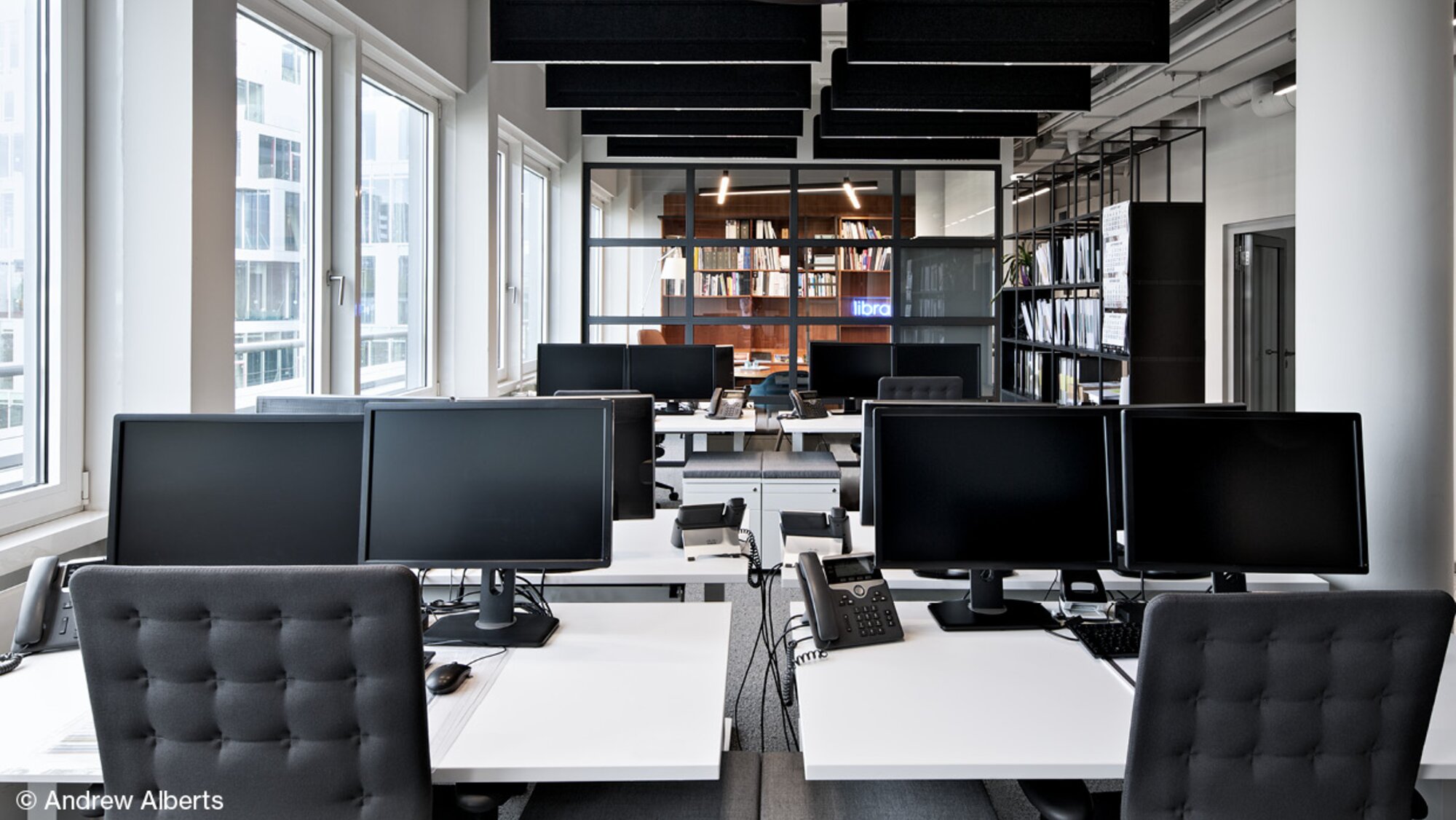 MUSE LIGHT and MUSE BAFFLE offer an optimum successive lighting and acoustic solution over desks where workstations are not permanent.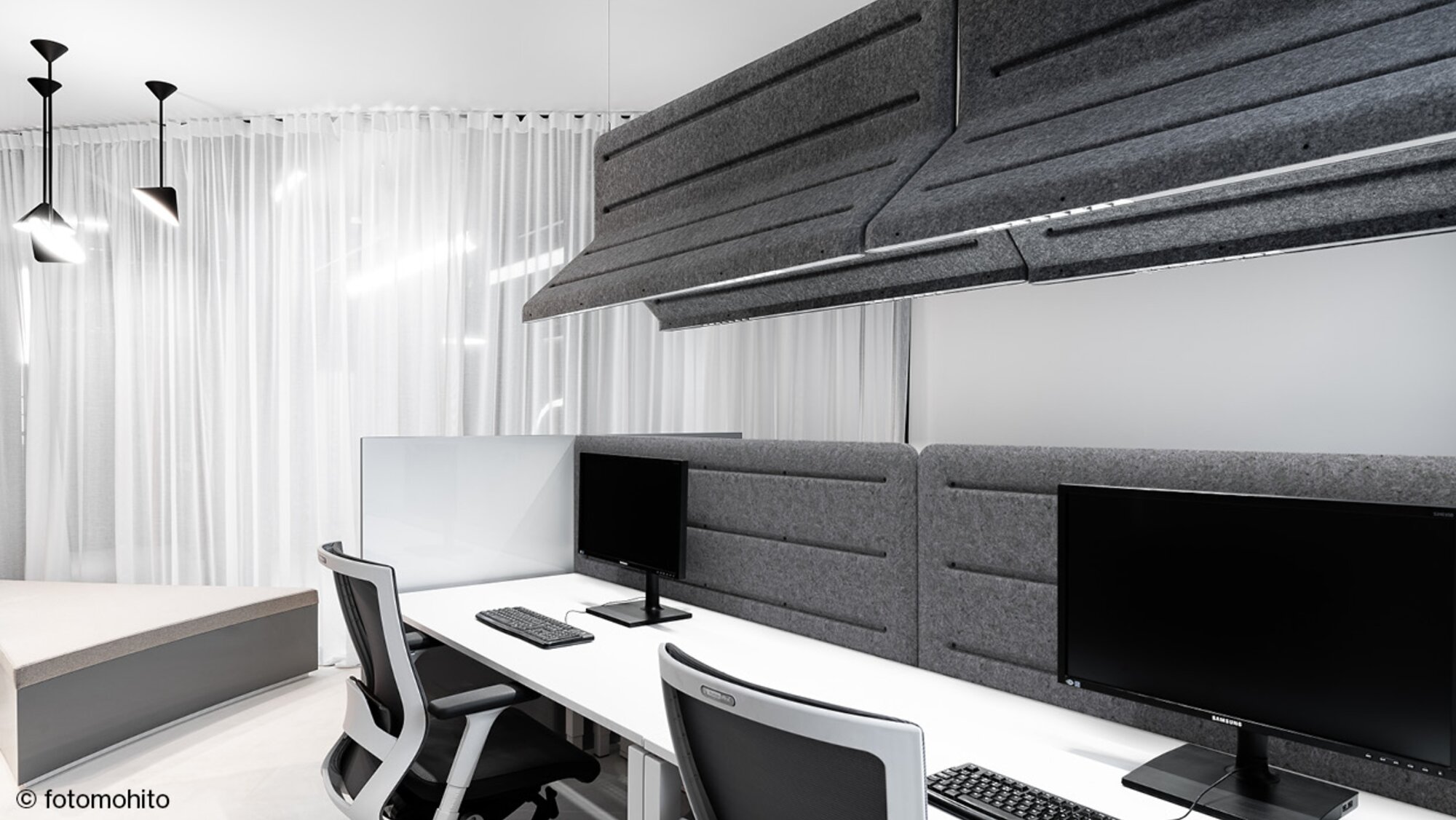 MUSE DOUBLE LIGHT illuminates double workplaces evenly and without glare. In addition, the "vault" style creates spatial zoning. MUSE DESK helps to delimit work areas.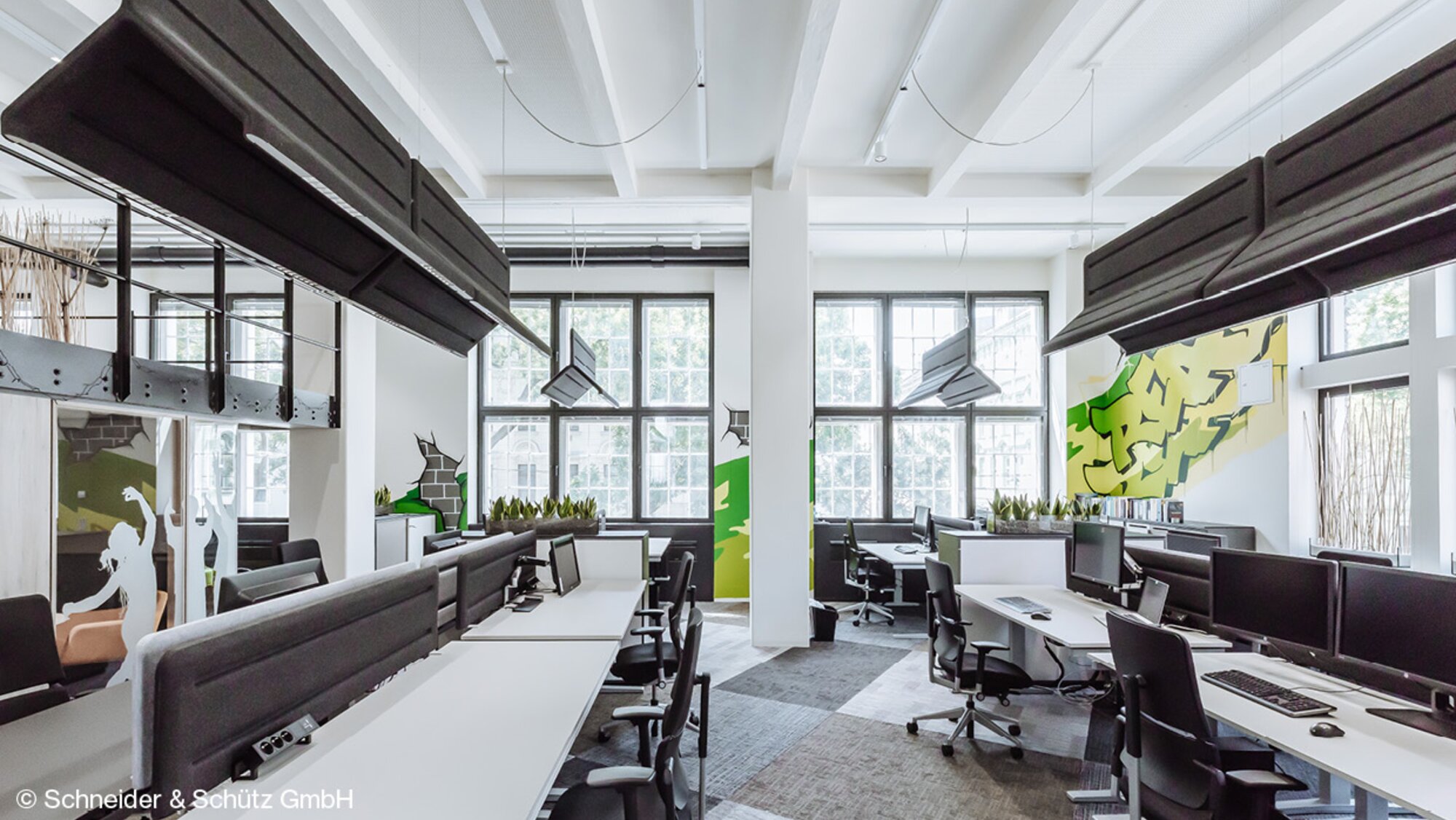 MUSE LIGHT illuminates double workstations evenly and virtually without glare. MUSE DESK provides visual and personal privacy as well as acting as a sound-absorbing shield.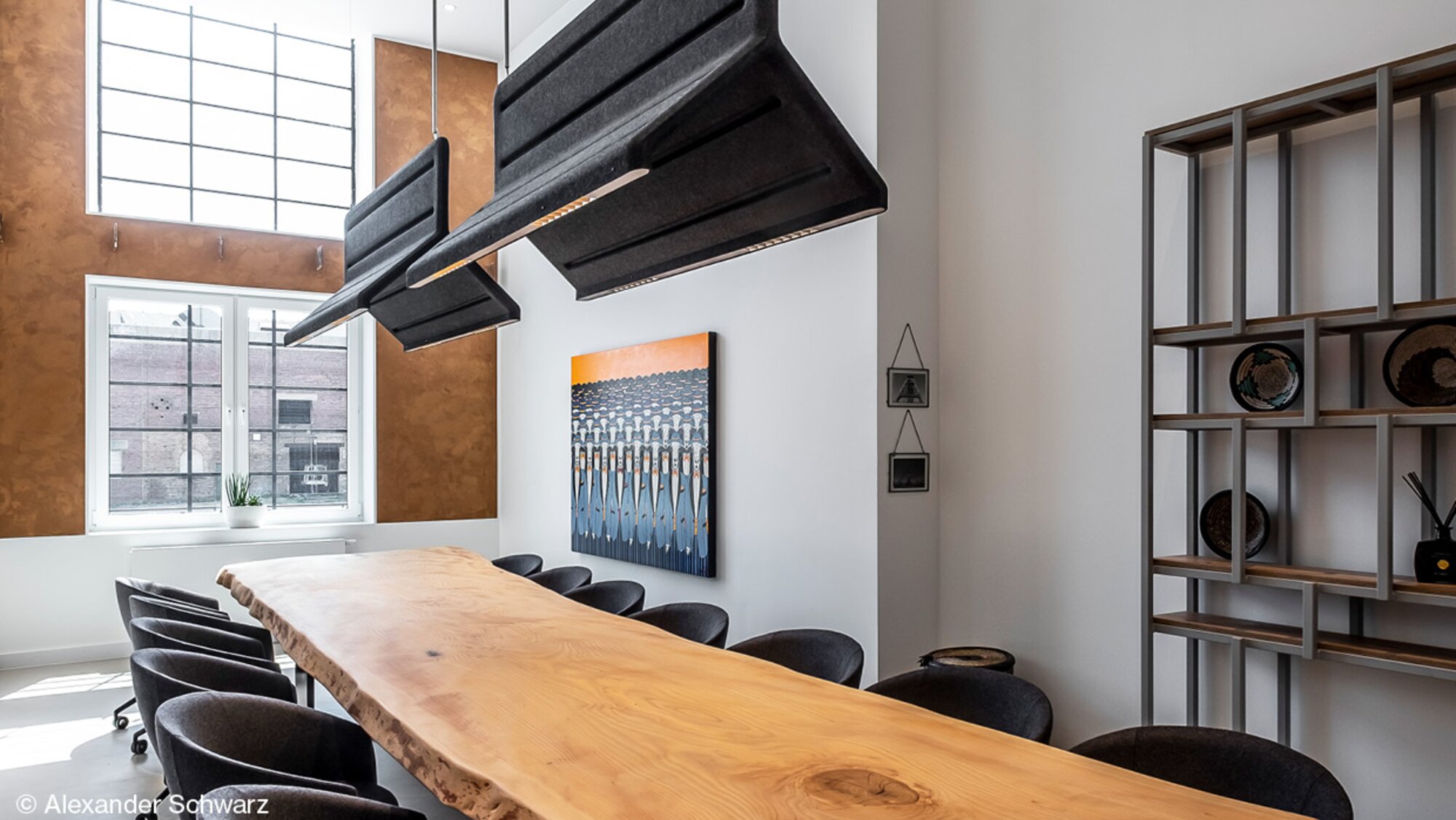 Combined into a long ceiling vault, MUSE DOUBLE LIGHT creates perfect lighting and a private atmosphere, both spatial and acoustically.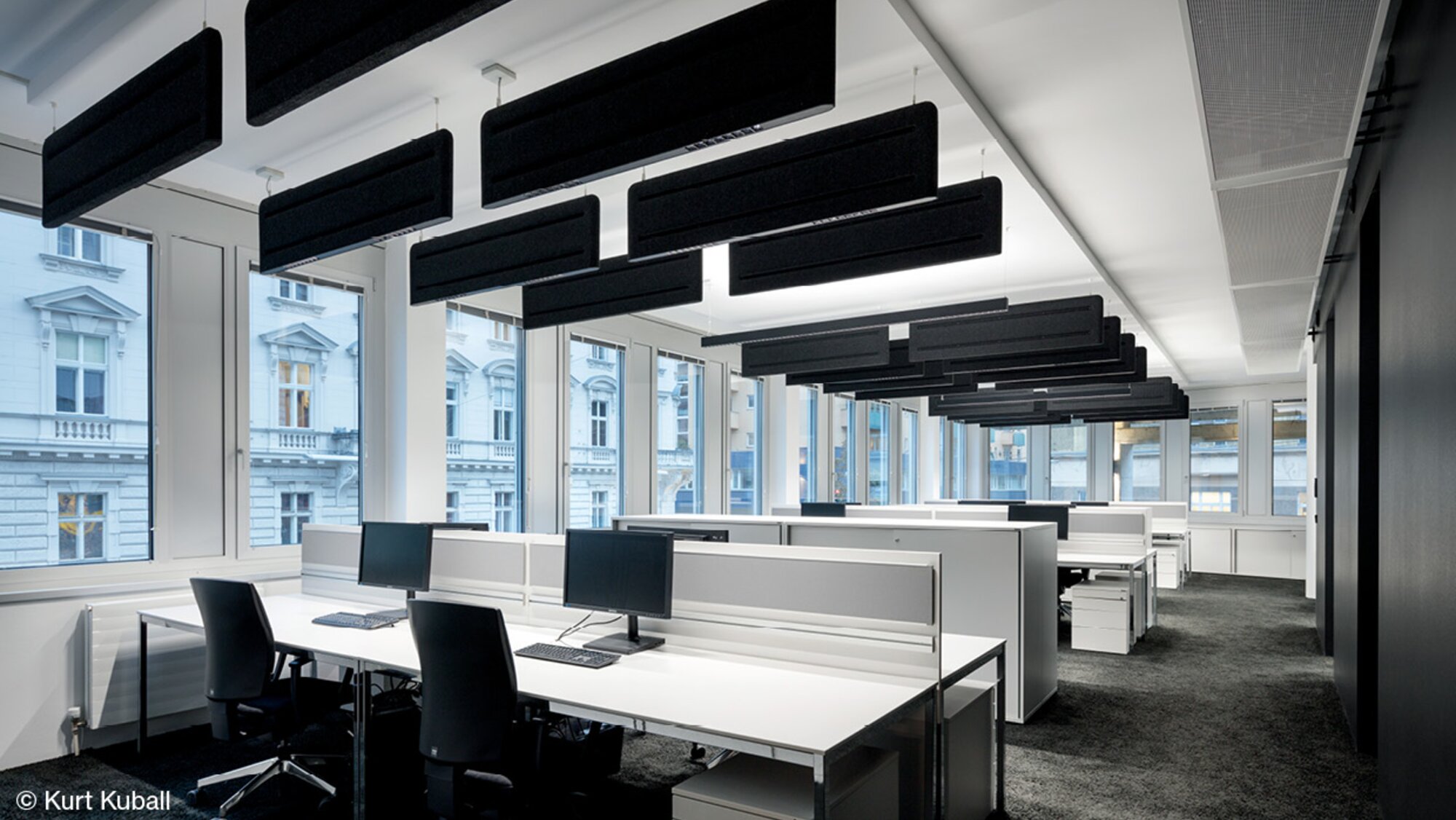 MUSE LIGHT and MUSE BAFFLE are used for large area illumination and basic noise attenuation in an open office, ensuring optimum hearing and understanding of speech.
Love it or leave it
We have developed MUSE as a product that effectively improves room acoustics and at the same time appears as a conscious design element. Its simple design language and appealing surface make it an integral part of the interior design. Especially MUSE DOUBLE LIGHT with its characteristic Y-shape acts as a special eye-catcher.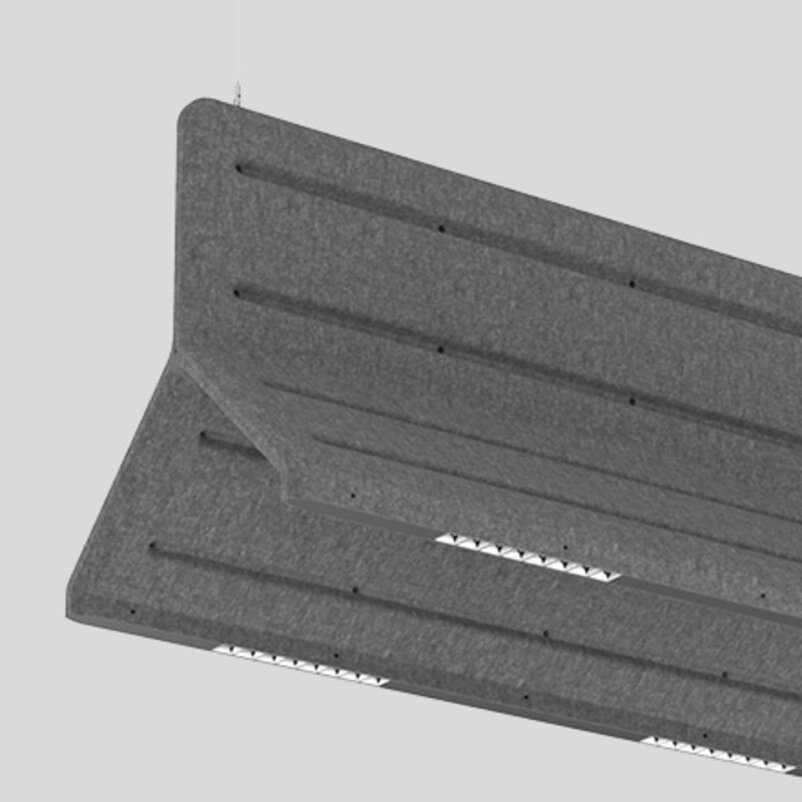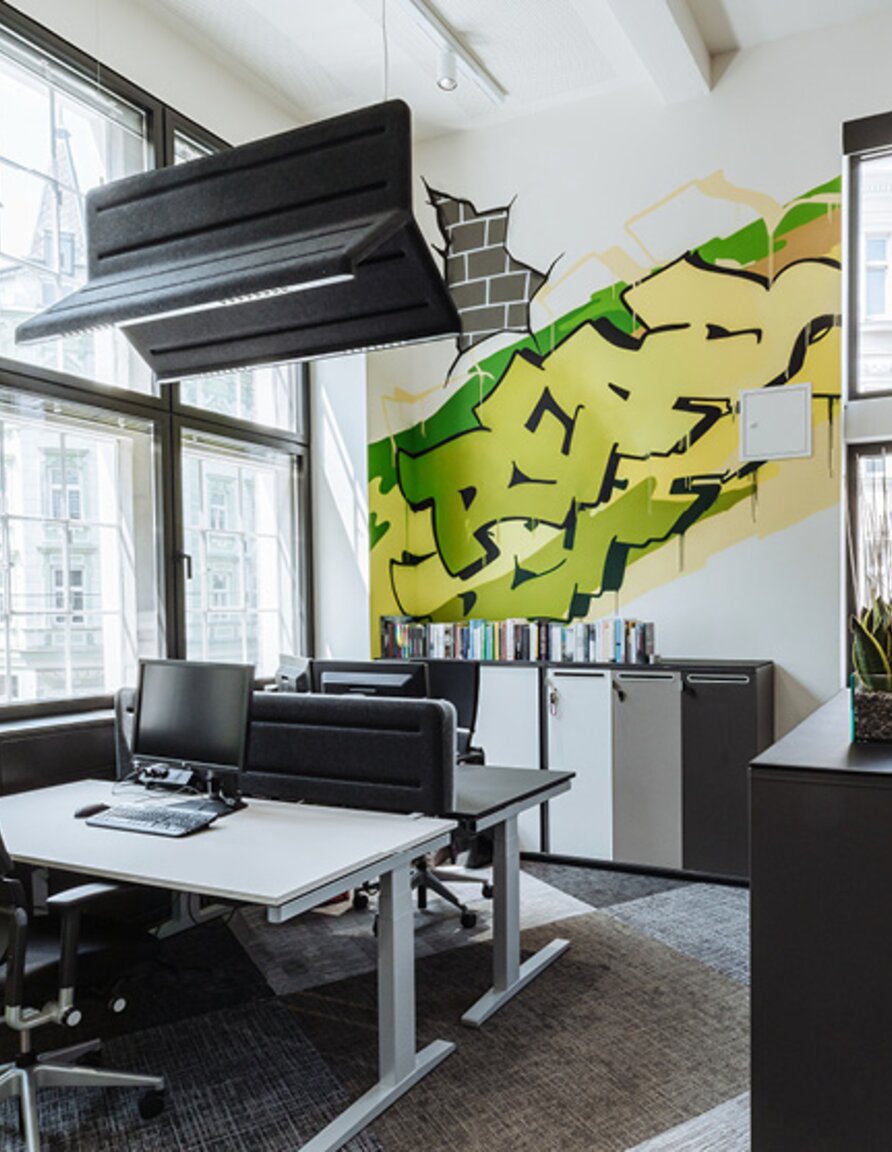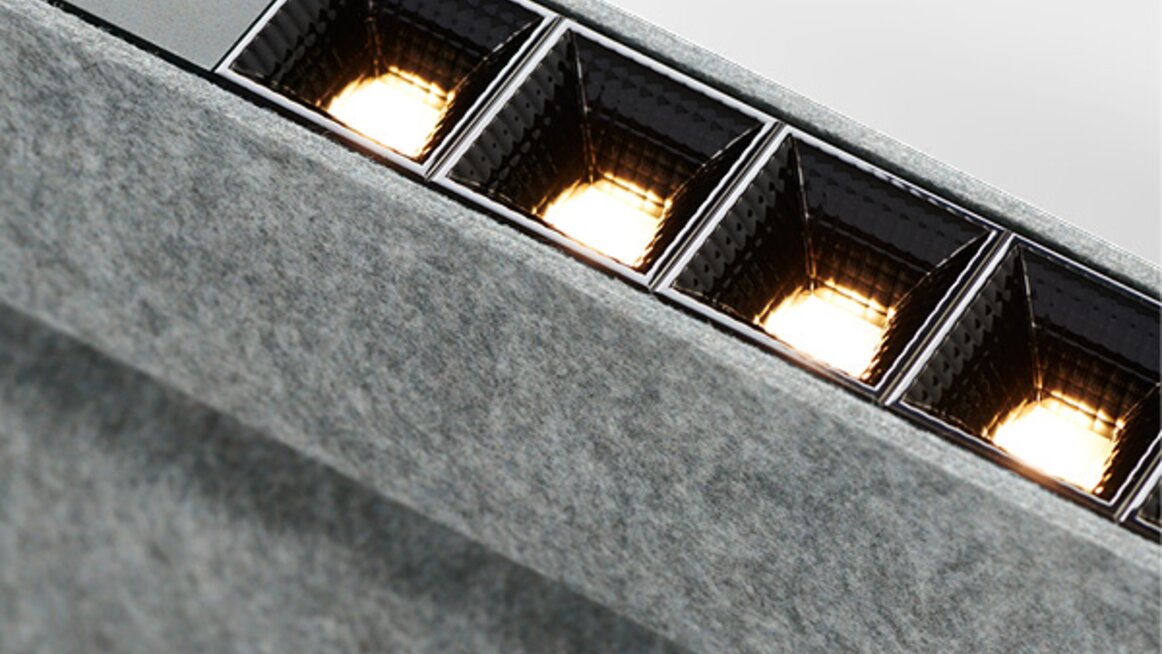 Symbiosis of light and acoustics
MUSE has been optimised for computer workstations. Thanks to glare-free reflectors, the luminaires achieve a UGR < 19 value, creating a pleasantly bright working environment without glare. Ideal working light complemented by a great spatial-acoustic effect. Vertically aligned MUSE LIGHTS have a large absorption surface. Aligned in parallel, they also offer ideal conditions for multiple reflections of sound. MUSE DOUBLE LIGHT combines these effects for the double workplace with a shielding effect against sound reflecting from the ceiling.
Read more
A second life for recycled PET bottles
The felt-like material of MUSE is made from 50% recycled PET. The material is precision formed and combines three key advantages: inherent stability, high acoustic effectiveness and a high surface quality that is pleasant to see and touch. As a result, MUSE both generates a beneficial level of well-being while combining a high degree of environmental responsibility. Discreet classic or modern look. Available with two neutral and two accent colours, MUSE can integrate into any office design concept.
Improve your room acoustics
In the XAL acoustic planning section, our work is based on many years of experience and advanced technology. We offer a combination of acoustic planning and a tailor-made lighting concept for your ideal working environment. Because every room is different, we develop each concept individually and in close coordination with our customers. The result: a pleasant and productive working atmosphere that is both audibly and visually tangible.
Get in touch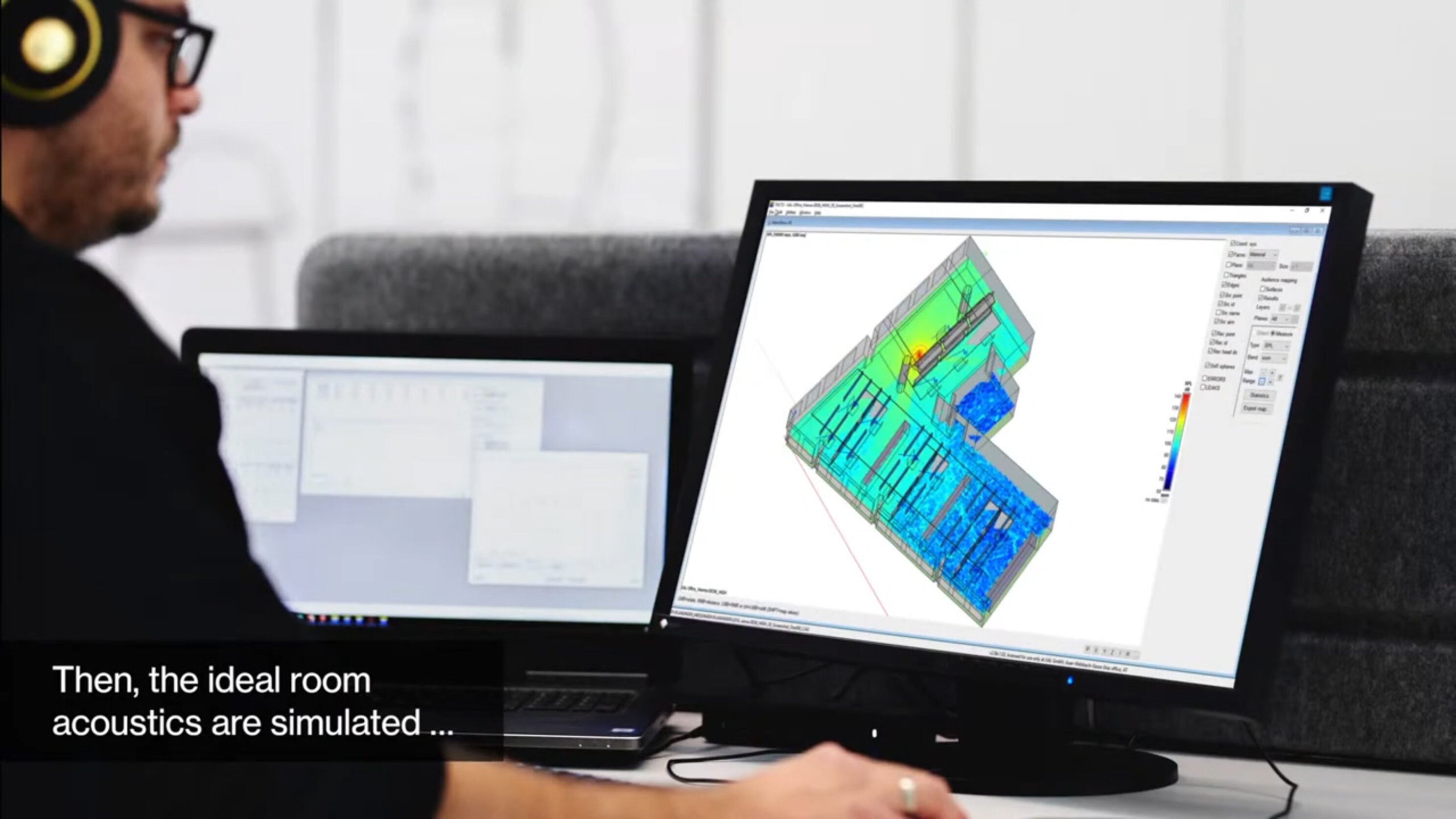 Sense and sensibility
The interior and product designer Katharina Schmidt has consistently focused on room acoustics in her professional career. The best possible performance literally sets the tone when designing and developing her acoustic room elements. Katharina Schmidt exudes a deep personal enthusiasm for the evocative and distinctive products and symbiotic solutions she creates that not only provide for a peaceful work environment but also stimulate the senses.