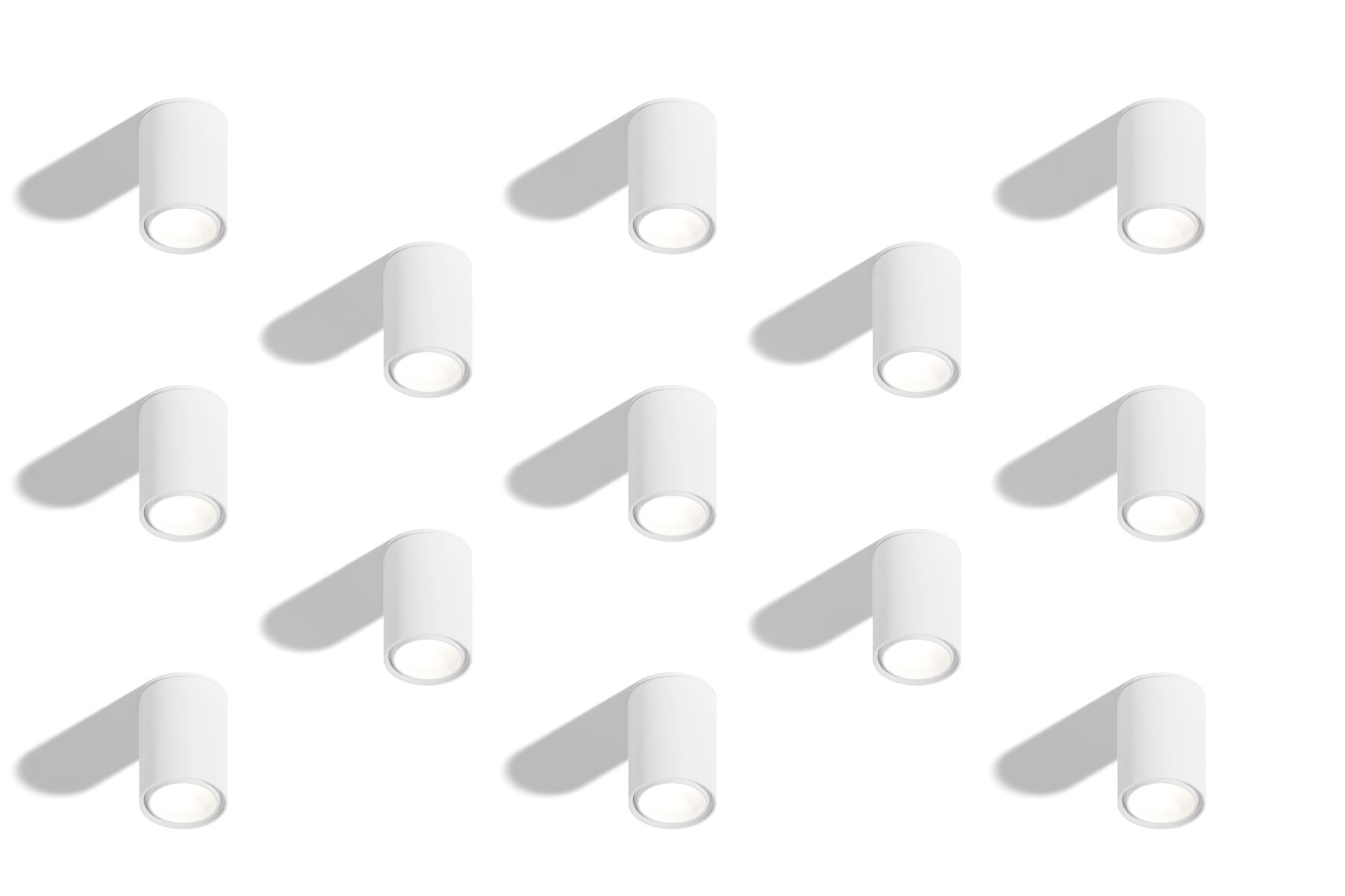 Surface spotlights
Thanks to their powerful LEDs, our surface spotlights deliver ideal indoor lighting. Swivelling versions are great for accentuation thanks to the precise alignment of the light points. They can be glare-reduced by applying optical accessories such as the Honeycomb Louver. Beautiful surface spotlights look fantastic on modern exposed-concrete ceilings.
Read more ...
Dieser Bereich wird neu geladen sobald ein Eingabefeld geändert wird.
Oops! Something went wrong. Please try again.
Light accentuation in every room
Surface spotlights guarantee lighting of the highest precision. Set pointed accents with powerful LEDs in the spotlight heads. The spotlights are available either individually or as a decorative two-lamp version with a base. Installation is possible on both plasterboard and concrete ceilings. Tight or spatial staging? Use spotlights with a tight beam angle for precise illumination of individual items of furniture or objects. Downlights, wallwashers or wall-to-floor floodlights provide optimum lighting for corridors or recreation rooms. Various optical accessories refine the lighting quality of your surface spotlights, such as a Honeycomb Louver for additional glare control.
BO Series. Perfection, selectively adjusted
BO series' products are ideal for deliberately chosen lighting accents. The aluminium cylindrical spotlights are available as a base variant with one or two spotlights and as a single ceiling-mounted variant. Thanks to different decorative colours, they match the interior design. Not only that, the powerful spotlight heads are rotatable by at least 360° and can be swivelled by 90°, allowing you to direct the light beam at will. More about the product series.
Ideal in the living area
Because surface spotlights integrate so discreetly into the interior design, they are the perfect lighting fixtures for the living area. Use the flexibly rotatable and swivelling spotlights to deliberately emphasise dining tables or kitchen islands, to set the scene for a decorative object, or to visually separate individual areas of the room. Single-flame spotlights provide focussed points of light, while multi-flame versions cast the entire living area in pleasant light. A cosy atmosphere is created by dimmable surface spotlights whose brightness can be regulated gently and continuously.
Revit BIM. Smooth digital planning thanks to intelligent files
XAL uses Autodesk Revit, the world leader in Building Information Modeling software products. Our products' intelligent files include collated data, consisting of 3D geometry, electrical data, photometric data, identity data, and product colours. You can fall back on our Revit files when planning lighting concepts with surface spotlights for the ceiling and other XAL products. More about XAL Revit BIM files