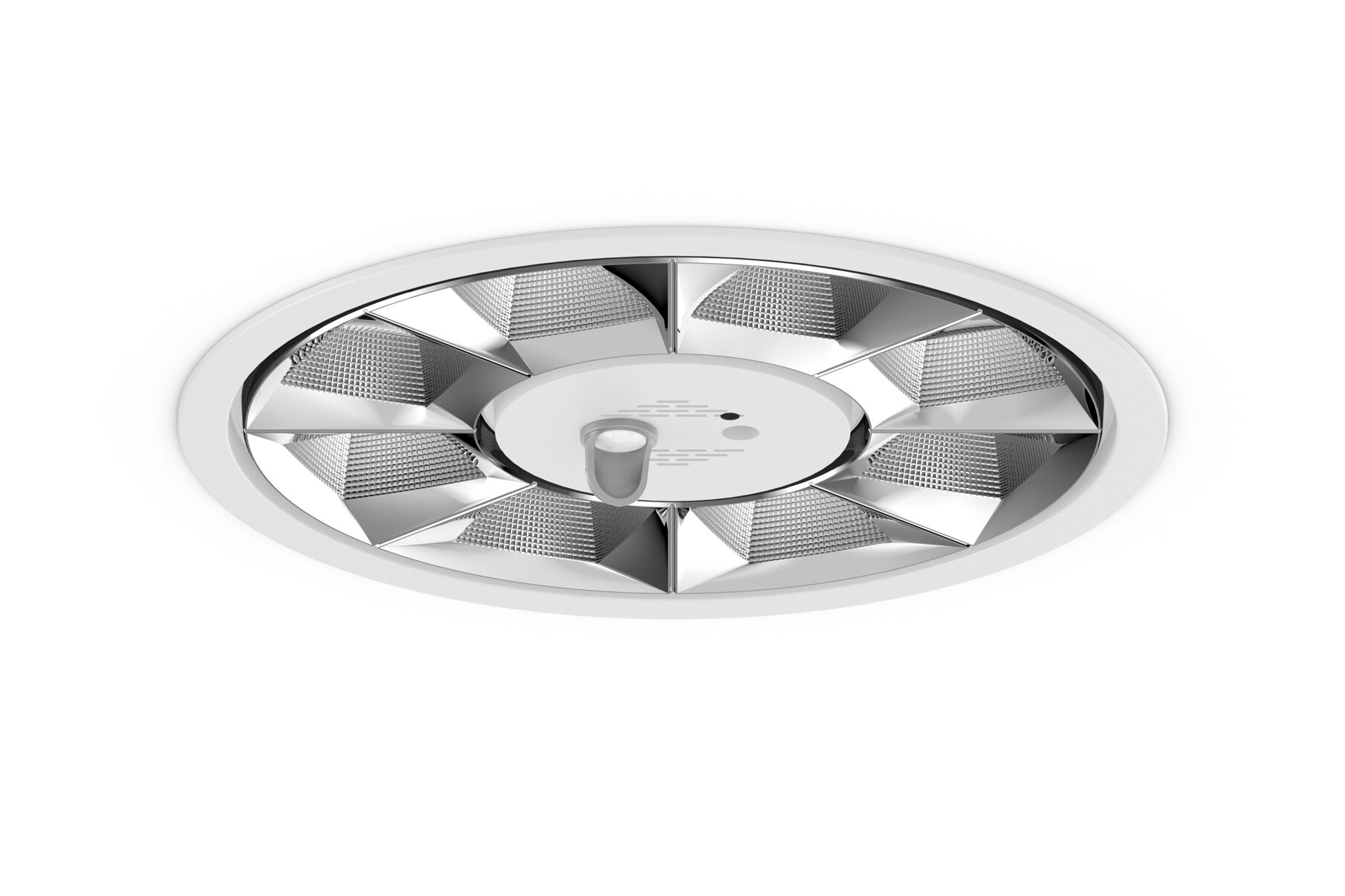 Luminaires with sensor
Sensor-controlled luminaires respond dynamically to ambient conditions. They adjust their brightness to natural daylight and the presence of individuals. In addition, the IoT-enabled sensors in the luminaires measure a room's noise levels and air quality. Through these revealing insights, both the indoor climate and space utilisation, as well as a building's energy consumption can be sustainably improved. Many XAL LED sensor luminaires have integrated smart sensor technology or can be easily retrofitted.
Read more ...
Dieser Bereich wird neu geladen sobald ein Eingabefeld geändert wird.
Oops! Something went wrong. Please try again.
LED sensor lights for targeted building services management
Daylight sensors measure the brightness in a room, while luminaires with motion sensors react to the presence of people. Such lighting, which adapts to the actual situation, both significantly saves on resources and increases the service life of the luminaires. Data gathered on temperature, humidity, noise and CO2 levels can be used directly to optimise the quality of occupancy in each room. In designing a workplace, these factors not only have a direct impact on employee satisfaction, but also on their degree of focus and productivity.
Data is transmitted from our sensors to existing control systems using DALI. With certain XAL product families, such as TASK, DESO or BETO, smart sensors are already installed as standard. But the use of other DALI-controlled LED lights (MITA, MOVE IT) can also be extended by adding sensors. A corresponding stand-alone version can be used to extend existing room lighting concepts with SASSO and UNICO.
The smart newcomer: SASSO 60 Sensor
It is now also possible to install an ESSENTIAL sensor or SENSE sensor in the compact SASSO 60 round design. As a result, you can enjoy the familiar various lighting scenarios and variability of SASSO, in combination with fully dynamic lighting control; and all in the same discreet design. Subject to the level of daylight or movement activity, it is possible to run a range of light scenes for networked lights with the sensor-controlled SASSO version. In addition, data continuously collected on temperature and air quality by the SENSE sensor can be used to control HVAC systems, while data on measured noise levels allows movement of room dividers of sound baffles to be planned in. By retrofitting sensors to existing DALI-controlled SASSO systems allows you to use all these functions immediately. Beyond the SASSO family, this sensor can also be integrated into the MITA 160 recessed. Further product details are available here.
Flexible office space: The Trabrennbahn project
A modern and highly flexible office building: The former harness racing track (Trabrennbahn) in Vienna is the site of an office space, based on the Activity Based Working model, that has been created in collaboration with XAL. The innovative lighting environment constantly adjusts to the range of activities and needs of the office users. The concept has been implemented using elegant, sensor-controlled BETO floor lamps, which immediately and seamlessly communicate data that is collected to the existing in-house service systems. In addition to motion and daylight sensors, the luminaires also have sensors installed for collection of temperature and air quality data in the room. Furthermore, noise is measured and a warning light integrated into the luminaire illuminates when the level in a room becomes too high to give a direct indication to employees that it may be a disruptive factor for colleagues. Further details on the project can be found here.
Making use of key building data with smart lighting
Luminaires with sensors provide the basis for smart, efficient lighting control. You can analyse your building usage in detail and use the data for targeted control of lighting. Optimising lighting based on needs not only reduces your energy bill, it also creates a more pleasant room climate all-round. In office areas, building data can be used for working concepts such as Desk Sharing or Activity Based Working, while in retail stores and shopping malls, sensors also provide informed data on visitor flows and length of stay in specific building sections. By using individual smart data reports, you will constantly gain new insights for improvement in building ambience and energy balance. Find out more about Smart Lighting.