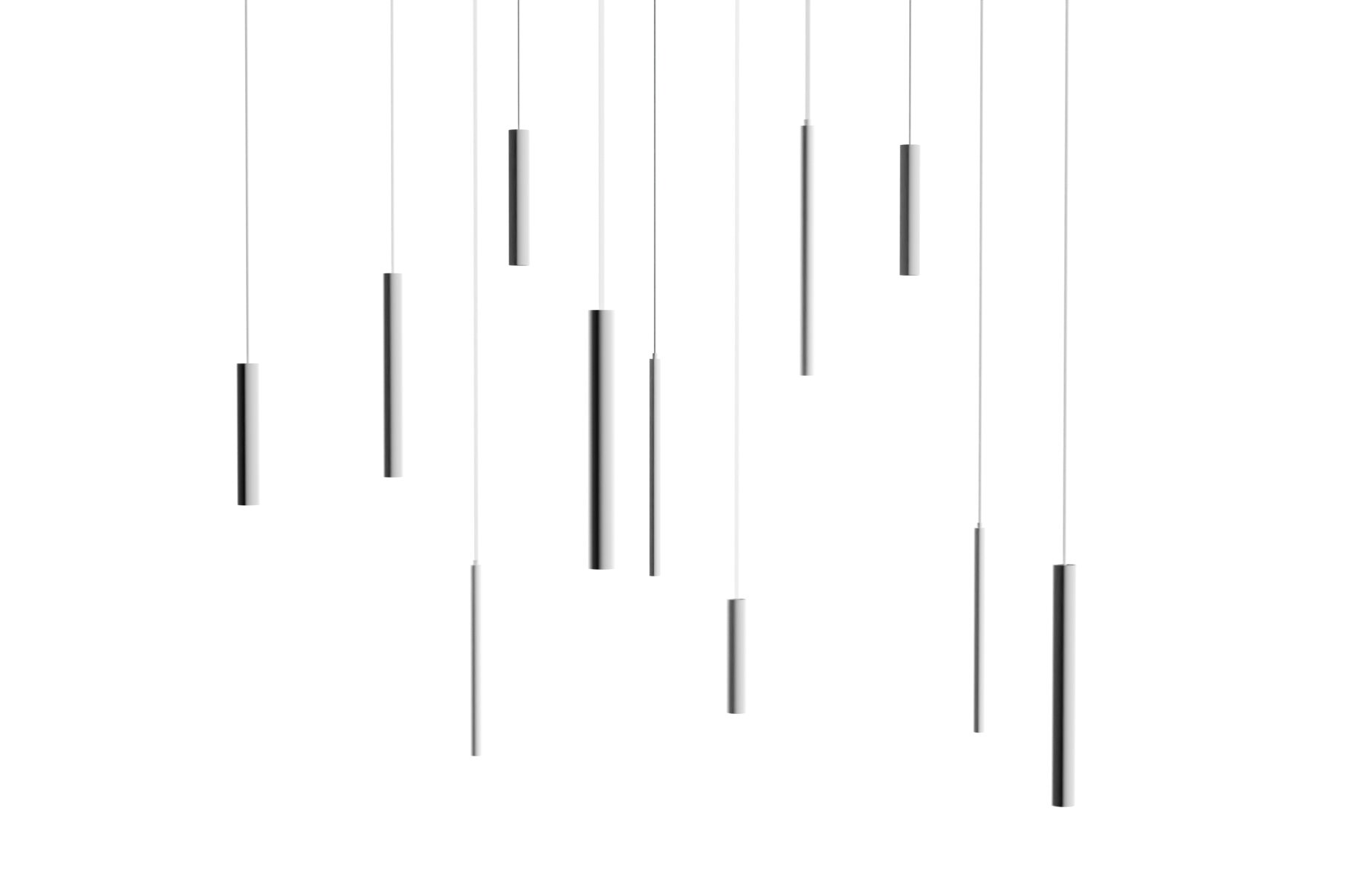 Suspended spotlight
Suspended spotlights are both a lighting and a decorative object thanks to their presence in the room. They create a special atmosphere. Lobby, bar, or restaurant? While the suspension choice – wire or pendant tube – determines the character and functionality of the luminaire, the correct position is crucial for its effect. Flexible solutions with ceiling hooks allow suspended spotlights to be rearranged again and again.
Read more ...
Dieser Bereich wird neu geladen sobald ein Eingabefeld geändert wird.
Oops! Something went wrong. Please try again.
Powerful and atmospheric
XAL's suspended spotlights are available in various designs. Suspension is either via a cable or a sturdy pendant tube. Because suspended spotlights have such a strong spatial effect, they are exciting and decorative elements in interior design. Powerful LED suspended spotlights craft a pleasant ambience while providing very good lighting.
The right suspension height depends on both the desired size of the light cone and the design or use of the room. A suspended spotlight above a restaurant table, for example, should be suspended at about the same height so that the table and food are well illuminated without dazzling those seated or restricting their field of vision. Glare is further prevented by recessing the spotlight into the luminaire's body or shade. DALI versions of our suspended spotlights are also dimmable for even more atmosphere.
Our suspended spotlight ARY
ARY is a suspended spotlight with character. Select it either as a classic suspended spotlight or in a rotating and swivelling rod version with a pendant tube. ARY suspended luminaires can always be rearranged or varied in height by means of rings mounted on the ceiling. No need to leave the lampshade to chance either. ARY's shades come in different sizes and colours – combine them any way you like. Thanks to its high colour rendering index, ARY is perfect for showrooms or restaurants for food presentation. Discover ARY.
Suspended spotlights for restaurants: Lighting with taste
Thanks to their decorative appearance and spot illumination, suspended spotlights are ideal for dining areas and restaurants. Tables can be detached like small islands by the light of the spotlights; shades with a matt surface or a special texture create a stylish and relaxing ambience. You can also rely on the high colour rendering of our suspended spotlights. The ARY suspended spotlight has a CRI value of 90, which means that illuminated food on tables or counters shines with true-colour brilliance and authentic texture.
XAL's suspended spotlights in use
Would you like to get to know our product families better? Then take a look at our product videos. We present XAL's most important spotlights and luminaires. Discover which functions and special features distinguish the individual product types, such as suspended spotlights, and where they are best used. Best practice examples from the office, living space, or specific architectural projects round off the presentation. Get inspired here.