Changing light
Spaces change because people change. Furnishings are rearranged and accessories shifted. Can light follow these movements? ARY is easy to relocate and rearrange to suit each new room layout. The decorative extension to the MOVE IT system, available as either a classic pendant luminaire or in a swivelling and tilting rod version, highlights elements of the interior design with a unique brilliance. The interchangeable shades make ARY a luminaire with resilient character.
Product details
Versatile and trimmed
Shades left to chance? It's better to decide from room to room. Shades for ARY are available in different sizes as well as with several colour and material options. They can be put together individually, swapped, and rearranged. Or even completely removed - for reduction and clarity in the interior design.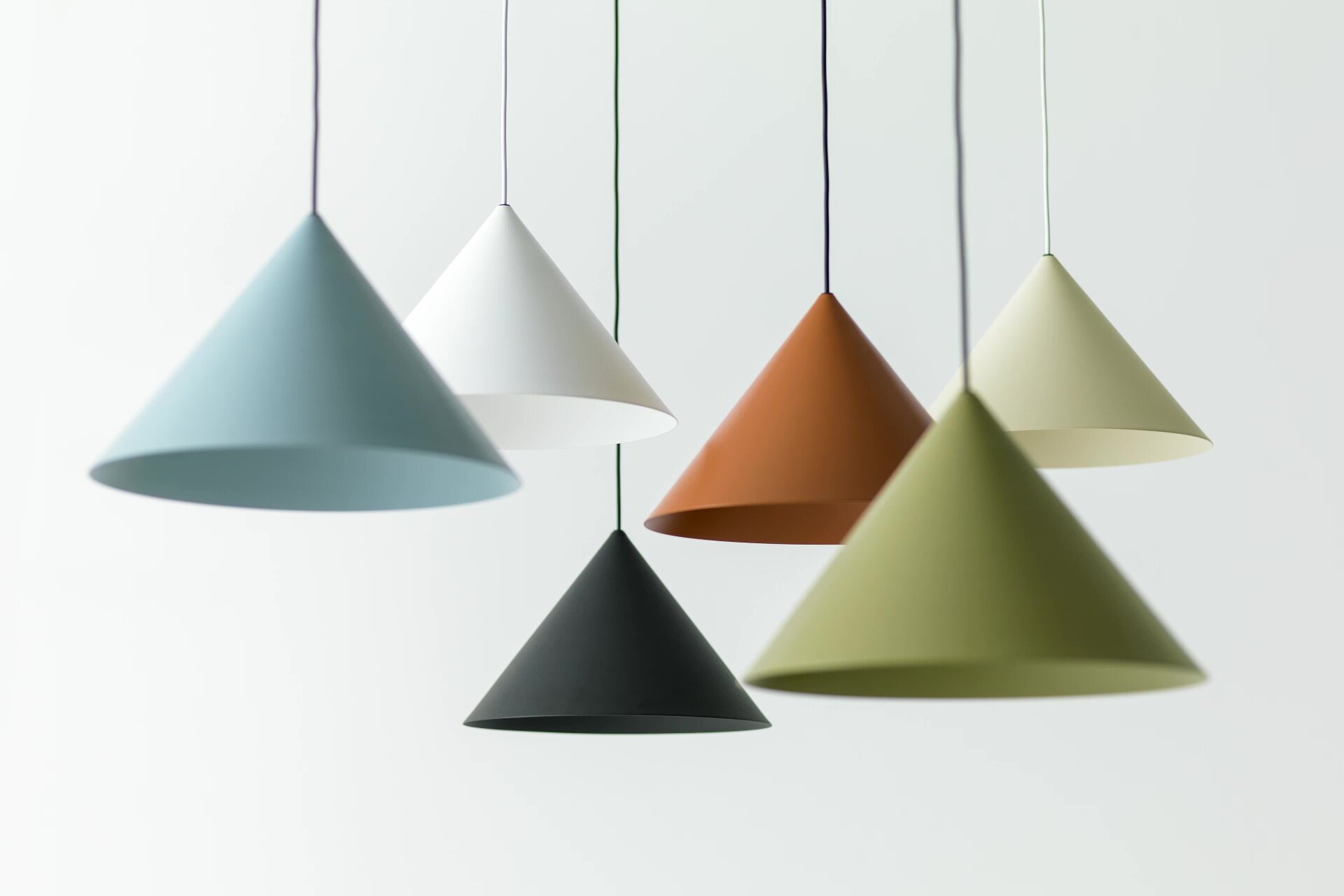 New staging
Good light has to fully accentuate interior design in all its colour and structural depth and has to be flexibly rearrangeable. This freedom of movement is provided by ARY ceiling-mountable rings. The luminaire's hooks can be hung at will. The rings in the grid create a bespoke and enthralling ceiling appearance.
Colour play
Warm light is relaxing, while cool light helps us concentrate. Light colours have a strong effect on our mood. In order to create the right atmosphere, ARY is available in three variants: 3000K, 4000K and tunable white (2200K-4000K). Objects shine authentically thanks to sophisticated LED technology with a high colour rendering value of CRI 90. Be it a meal or a painting: the focus is on a sensual experience of texture and aesthetics.
How did it arise? How did the ARY luminaire come into being? We asked award-winning architect and designer David Thulstrup. He and his eponymous design studio are behind legendary Danish gourmet restaurant Noma 2.0's interior concept. This is exactly where ARY's story begins.

Can you give us a behind-the-scenes look at the NOMA project? How did ARY come about?

The overall concept was clear from the start: I wanted Noma 2.0 to feel homely and Nordic at the same time. When entering, the space should feel like home and not like a restaurant. Through the interplay of location, architectural volumes, furniture and materiality, I was able to create this intimate and unique atmosphere.

Incorporating the right lighting solution was a challenge. Chef and co-owner René Redzepi wanted the restaurant to be adapted to each season. This meant changing the furniture three times a year and leaving room for both round tables and long tables for a more communal feeling. This flexibility didn't allow me to simply set a spotlight in one place.

Together with Danish lighting specialist Michael Anker, we instantly knew that we wanted to work with XAL. At first, we wanted to implement track lighting as well as spots that could be moved when needed. But we asked ourselves: "Is this the best solution? And is it flexible enough?". I knew that whatever lighting solution we ended up with, it shouldn't take away the attention from the room. Plus, Michael and I really wanted decorative lampshades.

This led us to developing a hook system that allows the luminaires to be moved easily and the hook to be mounted in different positions as desired. Since its opening, the new concept, which won the 2019 Danish Lighting Award, offers a composition of light colours, finely honed to Noma's three culinary seasons. These intricate details make Noma 2.0 a unique experience.
How would you describe light in one or two sentences? How does light challenge you; how does it inspire you?

I find light incredibly important. Danes are obsessed with light—we rely on it due to our geographical location. I am fascinated by how light affects the mind and how I can use it – in my home, for example. During winter, I make sure to catch as much light as possible to make this season easier to endure. In summer, I can then use it in a completely different way. Light really points out contrast—something that I also incorporate into all my projects. Depending on what I want a space to be, I use light to create a more bright environment or to generate a more moody atmosphere.

XAL was the perfect collaborator for the Noma project. Apart from the technical side, the joint development of the ARY collection was about implementing emotions and sensitivity. I love working with it and always make sure that both aspects are covered.