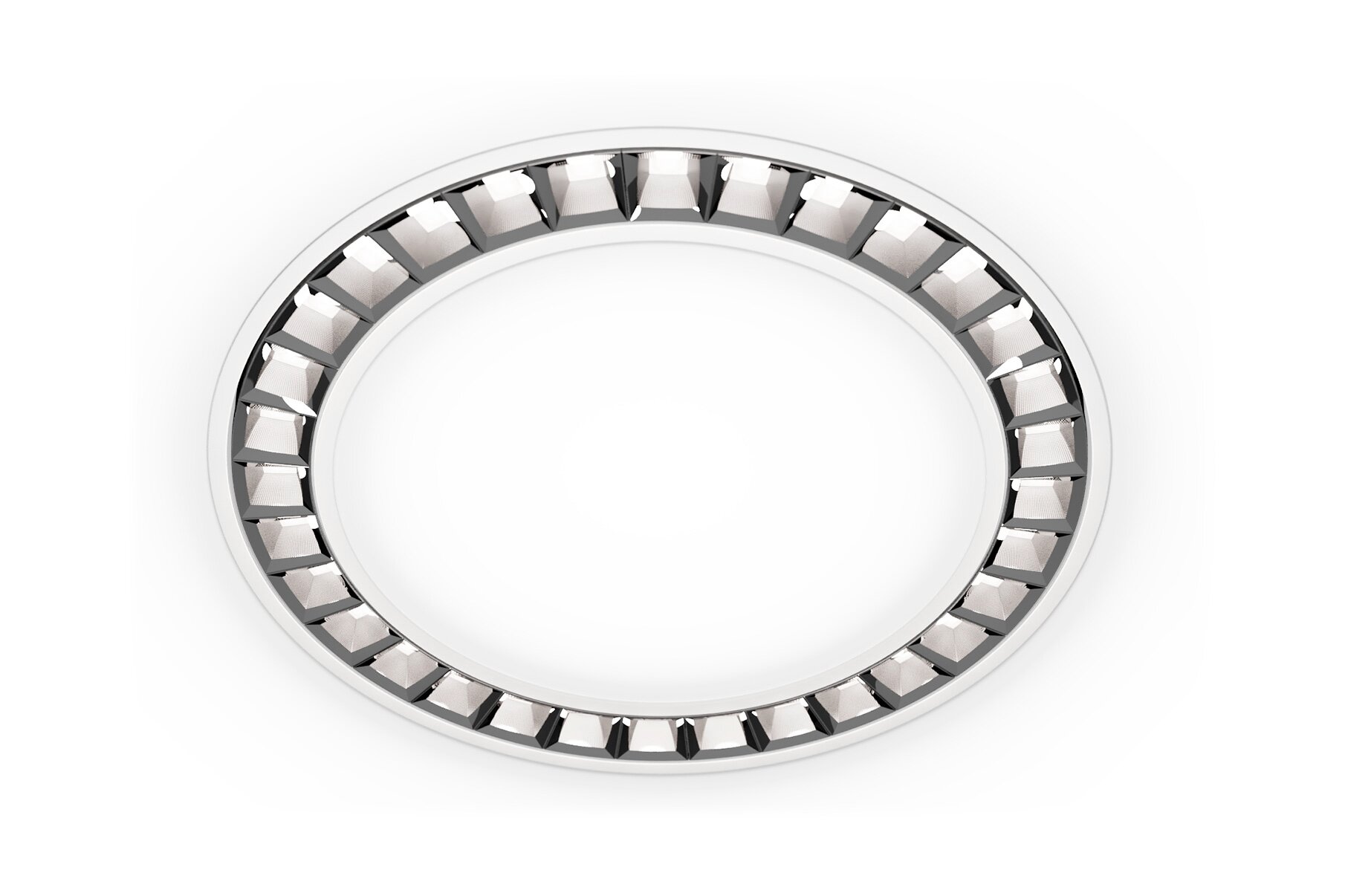 Recessed luminaires
Effective and almost invisible – recessed luminaires are optically integrated into the ceiling thanks to their mounting method. That's how they provide a calm, uniform ceiling appearance with a pleasant and even lighting effect. For our portfolio of LED recessed luminaires, we combine minimalist design with functionality and highly efficient lighting technology.
Read more ...
Dieser Bereich wird neu geladen sobald ein Eingabefeld geändert wird.
Oops! Something went wrong. Please try again.
Modest generalists for versatile use
There are recessed luminaires both with a trim and trimless. The latter integrates seamlessly into the ceiling. Recessed luminaires are versatile and straightforward, regarding the ceiling's material. They can be set in concrete, plasterboard, or wooden ceilings. In some cases, the recessed housing can be pre-installed and the light source simply retrofitted once construction work is complete.
The recessed-luminaire design offers a choice between classic round and square luminaires, or a freely designed continuous lighting system. Different cover variants make recessed luminaires suitable for lots of applications. Opal covers deliver particularly pleasant, even illumination. LED recessed luminaires' powerful light output make them ideal for workplaces. Luminaires with microprismatic covers are particularly often used. They ensure optimum glare control, thus creating the best conditions for working at a computer screen.
Simply a round thing
COMBO creates a calm, uniform ceiling appearance with pleasant and even room illumination thanks to its narrow rim which integrates beautifully into the ceiling. The round luminaire owes this to its opal cover. COMBO's version with a microprismatic cover reduces the glare value to UGR < 19, ideal for standard-compliant computer workstations. Depending on the desired lighting mood, COMBO comes in a 3000K or 4000K light colour, or as a Tunable White variant. View the product.
Space-saving lighting solution for a safe building
Recessed luminaires have a variety of applications. As they provide very good light and take up little space, they have proved particularly useful in corridors, hallways, and stairwells. Steps must be well lit to avoid becoming a trip hazard. Since corridors must lead safely outside in an emergency, good visibility is essential. Finally, the building circulation is a critical point in a building's energy footprint. Dimmable recessed luminaires can provide lighting as required. Smart building control automatically dims them in unused corridors and stairwells. More inspiration on access zones.
XAL's lighting calculator identifies the optimum position for recessed luminaires.
The lighting calculator helps optimise the quality and cost of lighting. It determines the optimum number of luminaires needed to achieve a desired lux value on a surface. This is crucial because different light intensities are needed at workplaces than in corridors or foyers. It also recommends how best to position a grid of luminaires in a space. The focus is on uniform light distribution. Use the lighting calculator for recessed luminaires and other XAL products. It also aids on-site luminaire installation. Test it now.