Modelling of building data
The digital twin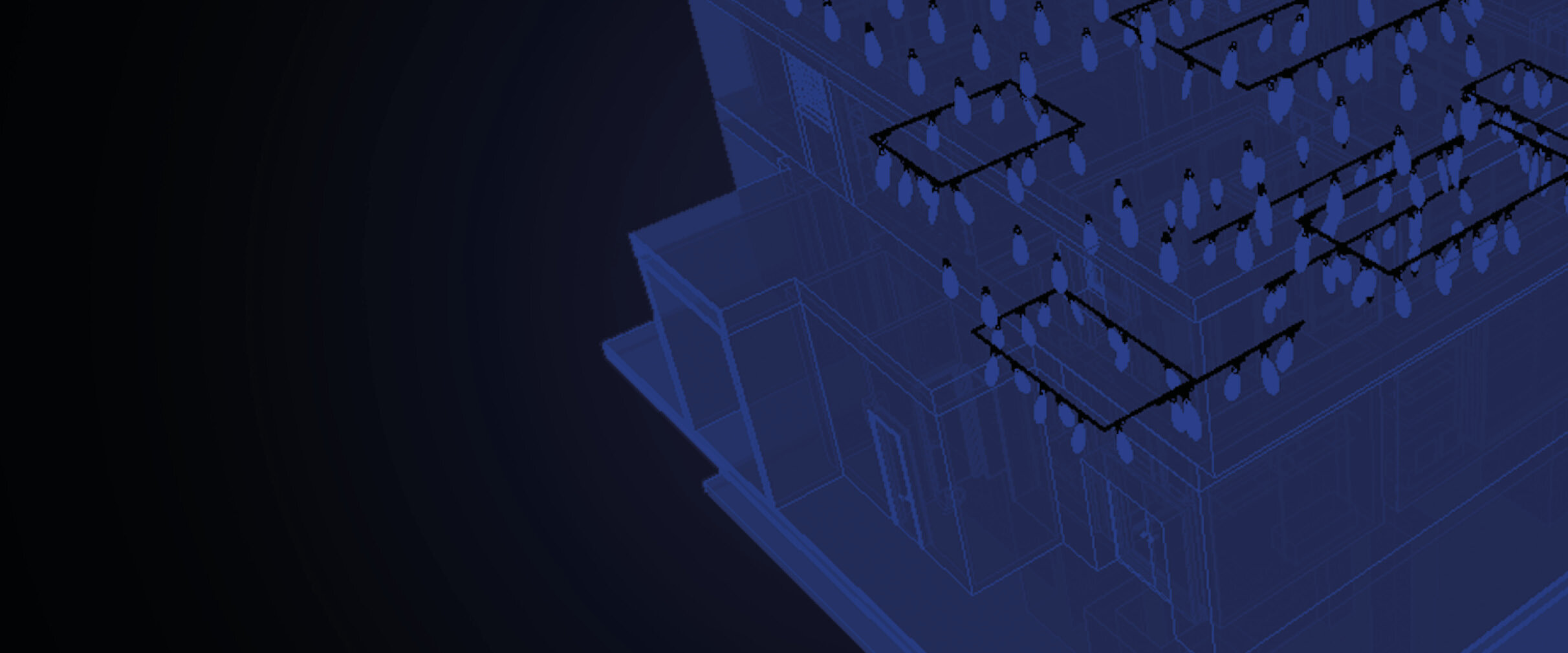 Building Information Modeling (BIM) is becoming an essential tool for the future of planning, being demanded more and more in calls for tender all around the world. The major benefit is that the process involves the creation of a smart 3D model, its management and coordination throughout the project lifecycle. BIM allows easy collaboration o all involved in the process, working on one model, providing efficient workflow, shorter planning and construction time, reduction in costs and preventing clashes and reworking.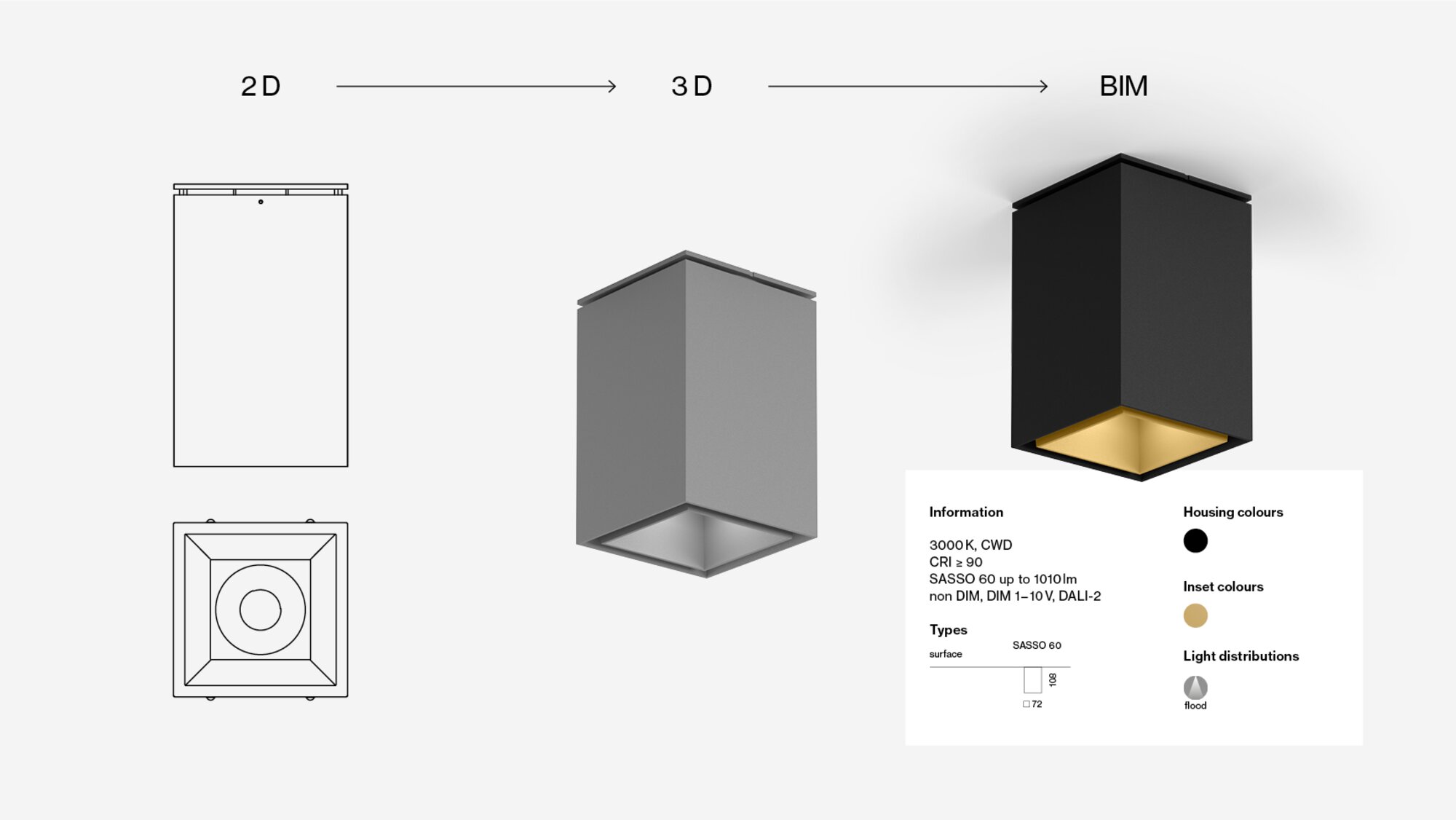 BIM in lighting industry
BIM, the digital twin, has reached the lighting industry. At the moment, there are still no offcially defined BIM standards in the lighting industry. Nevertheless, there is a common data that leading lighting manufacturers BIM files contain. This data is compiled of 3D geometry, electrical data, photometric data, identity data and product colours. Based on user feedback and reviews there is a clear leader on the market, in the field of BIM software products. Revit, a multidisciplinary BIM software for higher quality, coordinated designs is holding a first-place since years. Therefore, when it comes to our BIM software of choice, we looked no further.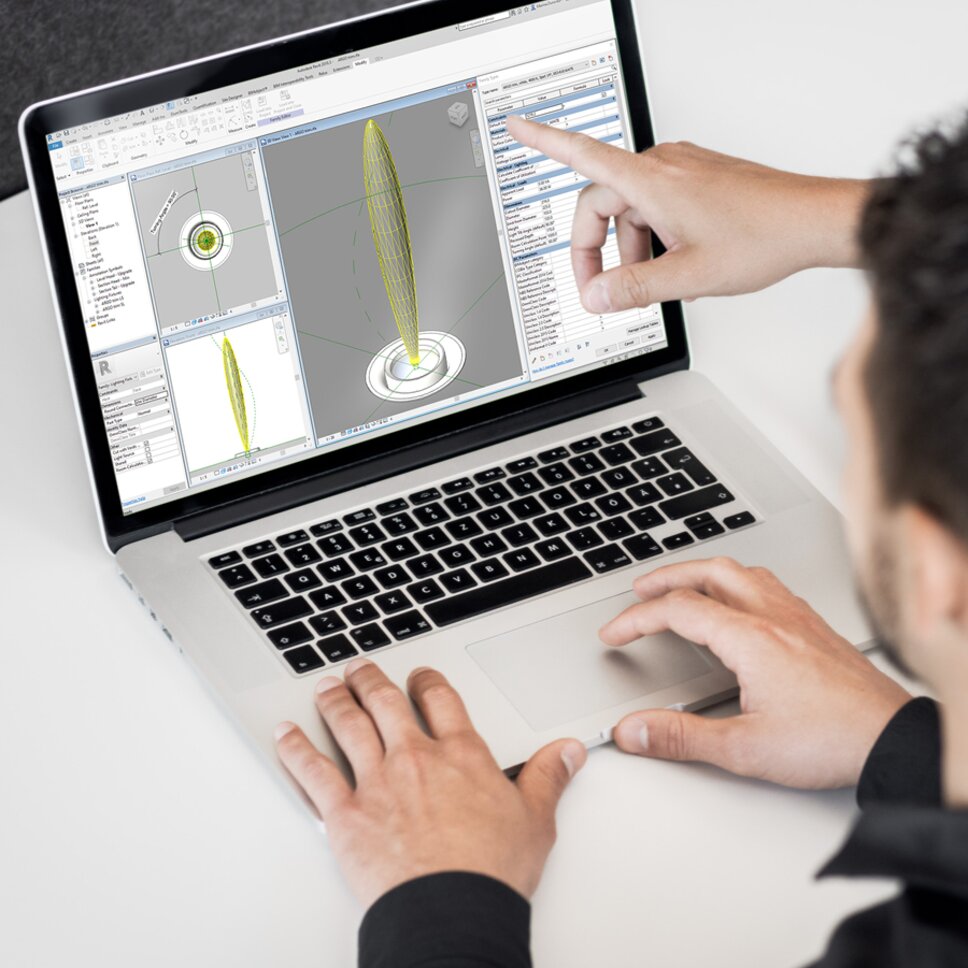 "BIM@XAL develops smart, interactive and efficient Revit families containing all standardized data – based on simplified, parametrized and rigged geometry, resulting in small size and great performance level."
Marina Durovka, BIM Coordinator, Lighting Laboratory
Family files
The smart structure of the files is based on simplified, jet fully functional 3d geometry and straightforward interactivity with all the product parameters and features. The file size is kept to a minimum keeping the performance level at its best.
Type catalog
Each family file has a merged type catalogue within, providing different datasets for each of the variants of the product. A simple and user-friendly concept with the dropdown menu in the Family Editor and drag-and-drop option in the Project Environment makes planning easier. Which means, that one product data file always contains all related technical data, 3D geometry as well as the light distribution curve.
Level of detail
Level of detail - Our BIM files have two modes of Level of detail (LOD). Fine/Medium level of detail with full 3D geometry; Coarse level of detail with reduction of 3D geometry to outlines in elevations and without 3D geometry in the 3D view (only the light distribution curve is visible).
Where can the data be found
You can find our families on the world-leading BIM Content Platform – BIM object as well as directly on XAL home page. The downloaded BIM files contain 3D geometry, electrical data, photometric data, identity data, product colours, and type catalogue with all the variants with their own datasets.
For any files without Revit BIM data link, clients can refer to ReluxNet. Relux is generating BIM files based on our data sets, with a different file structure. Besides, XAL is offering classical 3D formats such as .3ds and .dwg.
Any Questions?
Are you currently involved in a BIM project, and in the need of planning aids – professionally developed Family files with clear type catalogue and different levels of details? Our BIM team will be happy to assist you. For any further information please feel free to contact us.
Get in touch