XAL Lab
EMC laboratory and light laboratory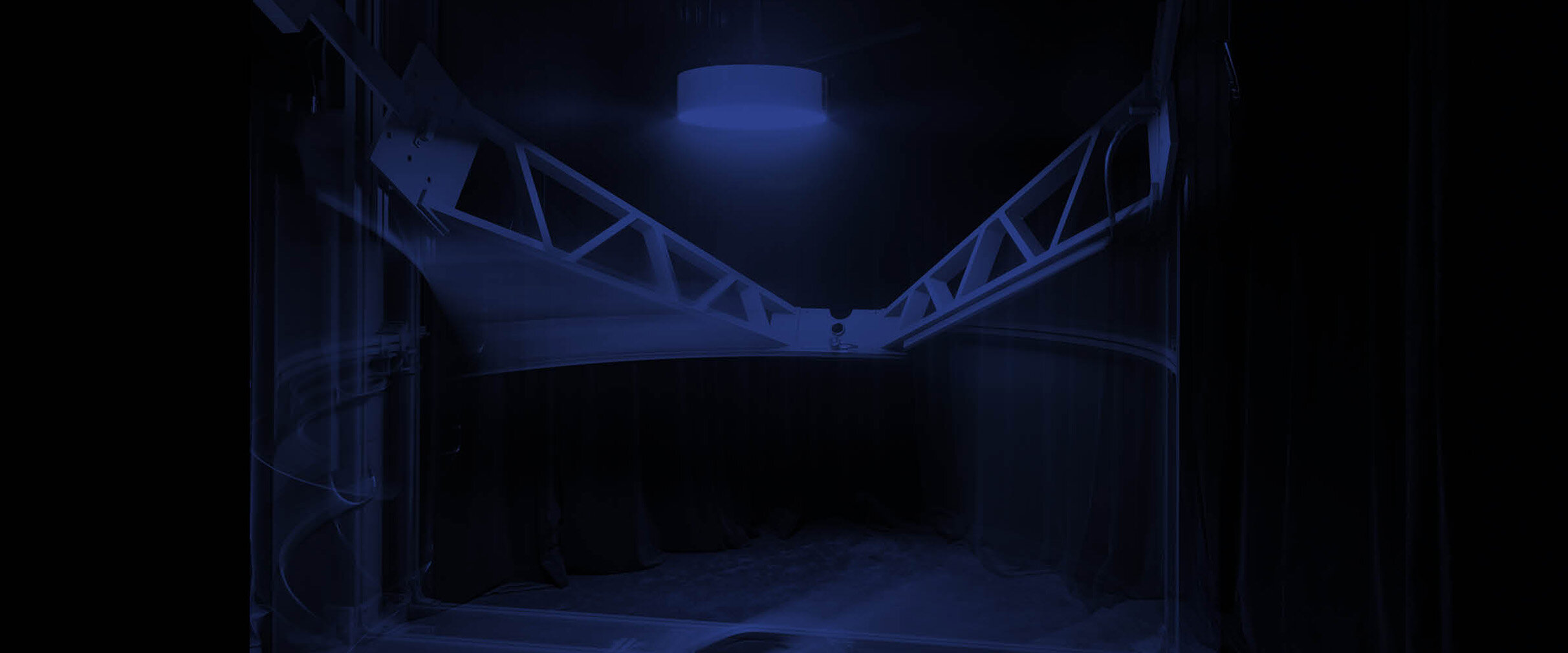 Our luminaires are put through their paces in XAL's state-of-the-art laboratories. Here, the latest technology and ISO and IEC 17025 certifications ensure the quality of the products and their long lifecycle. The best possible laboratory infrastructure, such as the near-field goniophotometer, is used to test whether luminous flux and light distribution meet the requirements. All luminaires are tested for electromagnetic compatibility in the EMC chamber. Accurate measurement of the luminaire's colour temperature and efficiency (colour rendering) is also essential. This is how we optimise each product for its specific application.
EMC laboratory
The focus in the accredited laboratory for electromagnetic compatibility is on testing lighting equipment. The facility has a state-of-the-art semi-anechoic chamber (SAC) for the standardised EMC tests. The electromagnetic compatibility of all luminaires is tested in this EMC chamber. During the process, it is ensured that the interference emitted by the luminaires and also their interference immunity are within the ranges prescribed by the standard.
Accredited Services:
Measurements according to EN55015: 2020 / 2015 / 2013 / 2006
Measurements according to EN 55032: 2015
Measurements according to EN55035: 2017'
Measurements according to ETSI EN 301 489-1:V1.9.2
Measurements according to EN61000-3-2: 2019 / 2014
Measurements according to EN61000-3-3: 2013
Measurements according to EN61000-4-2: 2009
Measurements according to EN61000-4-3: 2011 / 2010 / 2006
Measurements according to EN61000-4-4: 2012 / 2004
Measurements according to EN61000-4-5: 2017 / 2006
Measurements according to EN61000-4-6: 2014 / 2009
Measurements according to EN61000-4-11: 2017 /2004

Non-accredited services:
Measurements according to EN62493: 2015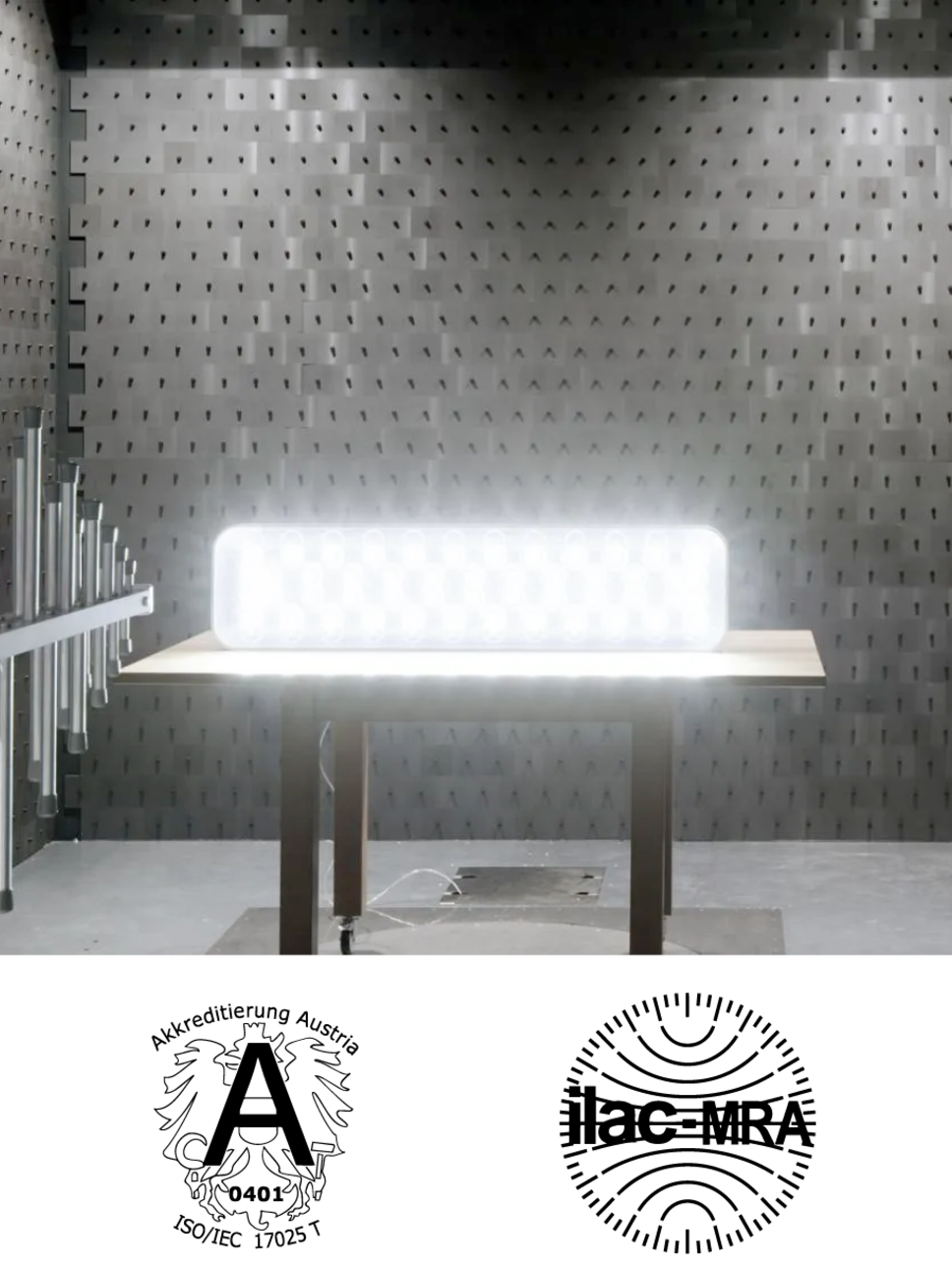 Light Laboratory
Our employees in our accredited light laboratories place particular emphasis on quality and traceability. They measure, evaluate, test, compare, and perform root cause analysis on component details. The measurements and reports support us, from pre-development through to series production of the products. The aim is to provide the best possible support in the development and quality assurance of luminaires, and to provide architects and lighting designers with reliable planning data. The result is a luminous intensity distribution curve and a measurement of the luminous flux. Furthermore, a spectral measurement provides information about colour temperature and colour rendering. The light laboratory also offers photobiological safety measurements to determine the blue light hazard of LED luminaires.
Accredited Services:
EN 62471: 2008
IEC 62471: 2006
IEC TR 62778: 2014
(Limitation: white LED light in the visible wavelength range from 380 to 780 nm. Only blue light and retinal thermal hazards are reported).
EN 13032-1: 2004 +A1: 2012
EN 13032-4: 2015 +A1: 2019
CIE S 025/E: 2015
IES LM-79-19: 2019

Count on XAL's expertise
As an external customer, you can use the XAL LAB infrastructure. Our services include accredited photometric data for your luminaires. The EMC measurements are available to you for all electrical devices covering the standards listed above. In addition, we provide tailored advice and planning data as well as internationally recognised test reports. Let us advise you.
Get in touch